The following historical details, as with all the other information relative to the Fox Genealogy portion of this site, were supplied by Alf Fox. The photo's were I believe, taken by his son from a helicopter.

A HISTORY OF KELFIELD.
In the year 1801, Kelfield had a total population of 175 inhabitants - in 1811 this had increased to 209, and in 1821 there were 286 while in 1831 there were 302, a steady increase over the years.
Kelfield was a small agricultural village and census records of 1841 show 69 inhabited houses, 4 uninhabited and none building, at this time the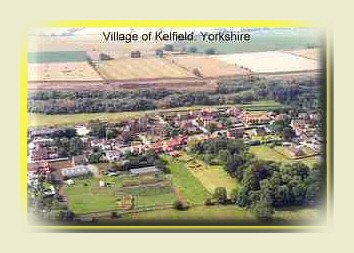 population numbered 315 inhabitants - made up of 75 male persons under 20 years of age and 98 over 20 years of age - a total of 173 males. Females under 20 years of age numbered 60 while there were 82 over 20 years of age - total females 142.
A big increase occurred in 1851 with a total of 421 persons made up of 229 males and 192 females, in this year there were 77 inhabited houses, 3 uninhabited and 1 being built.In 1861 a slight drop was recorded with more females - 197 against 191 males although there were now more houses occupied - 83 and 2 uninhabited.
Buildings from this era that remained in 1980 were Kelfield Grange at Number 18 Riccall Lane, Mount Pleasant at Number 19, The Manor House at 35 and the Grey Horse Inn at Number 43. A prominent building, Kelfield Old Hall was demolished in 1829 by Henry Preston and was the residence of the former owners before being bought by Henry Preston. A local story suggests that Colonel Henry Thomas Preston had been awarded the manor/estate as a reward for his services to the Crown during the Indian wars. At the beginning of the 19th century the manor and estate , containing 1286 acres, belonged to Mary, the widow of the Reverend Edward Stillingfleet and the only daughter of William Peirse Esq of Hutton Bonville who died childless in
1804 and the estate was sold by public auction in 1812 to seven gentlemen for the sum of £58,000. Around 1982/3 the local builder Noel Hare built a new house on the Chapel of Ease for his son and his wife who named it the Old Hall - it is by the river opposite to Village Farm and they have suggested that it is on the site of the house called Oburn Hall which was occupied by Joseph's father John Fox and his then wife Jane (nee Guy). The house was at Number 54 Riccall Lane.
Adjacent to the cricket field and almost opposite Holly Tree Farm is a field named "FOX FIELD" - so called since it would appear that the local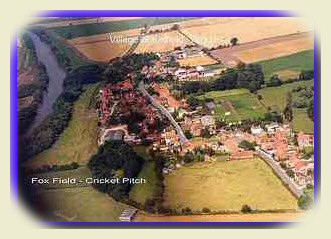 landowner Henry Preston who lived nearby at Moreby Grange, came across a farmer Fox in the act of killing a fox - the family being then banished from the land and the field supposedly getting its name from this act.
Kelfield Grange is situated on a farm and in 1980 was occupied by a Mr.Stones and family. Some parish records seen in 1980 but since destroyed did not show any reference to either the Fox or Nicholson families around the year 1900 and it must be assumed that many had, like Joseph, gone to seek work and fortune elsewhere or many had died.
Bulmers Directory and History of East Yorkshire dated 1892 described the village of Kelfield as situated on the east bank of the river Ouse, which is here crossed by an iron bridge, connecting it with Cawood in the West Riding. This bridge was erected in 1872, by a company of shareholders at a cost of nearly £12,000, in lieu of the ferry previously belonging to the Ecclesiastical Commissioners. It is 295 feet in length and consists of 5 arches - two of which open to allow the passage of vessels. It was taken over by the county in 1882 and declared toll-free.
Kelfield is nine miles south of York, six miles north-north-west from Selby and one and a half miles south from Stillingfleet.

IT WAS FROM HERE IN KELFIELD THAT JOSEPH LEFT TO ENLIST IN THE WEST YORKSHIRE REGIMENT IN YORK IN 1881.